The multiplicity and renewal of energy and water contracts make it difficult to control these expenses. Monitoring your energy consumption is essential

Stay in alert !
Live monitoring of your fluid consumption in real time. We warn you of any drift (water leak, overconsumption…)

Compliance with regulations
Implementation of actions to comply with the new energy standards for buildings

Savings made
Analyze your consumption to save energy

An efficient communication
Develop your environmental impact with citizens/customers by presenting them your energy data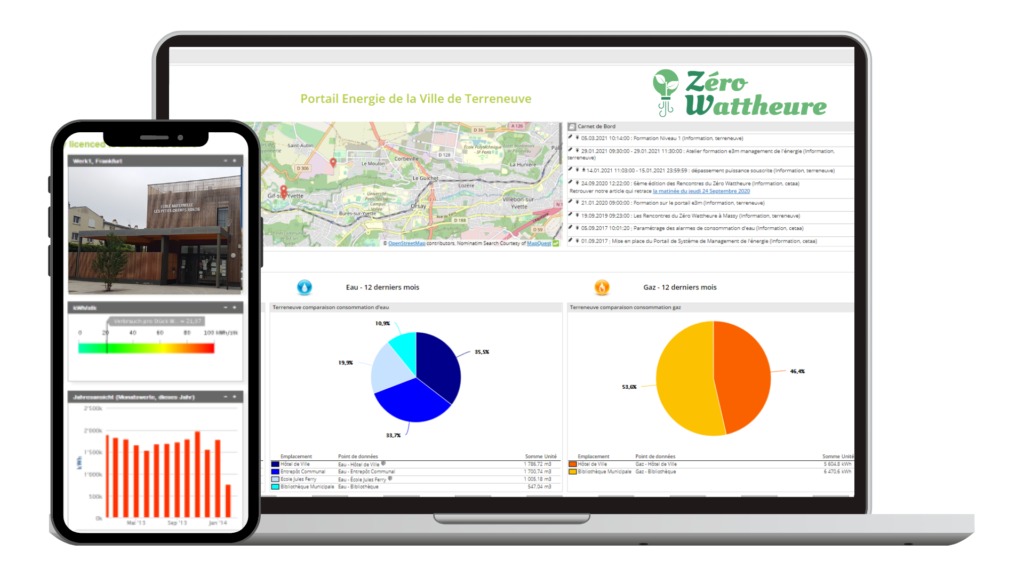 Share a common vision of your assets between these different departments (education, sports, technical, finance, etc.).
Have a multi-fluid repository of all your buildings automatically transmitted by the distributors of your supply contracts.
Easy Available within your IT department, SILENO Ag's e3m software is the European reference tool for Energy Management.
Available on computer, mobile and tablet, this Energy Management System warns you in case of any drifts (overconsumption, water leaks, exceeding established thresholds, etc.) and adapts to all your buildings for a more sustainable use of your energy.
Zéro Wattheure helps us significantly reduce our energy consumption. We have a clear and precise view of our consumption to allow us to move towards a sustainable building stock
This system allows us to study our consumption in order to make savings and to report any drifts in all fluids. It also allows us to access the real consumption of our installations on the same platform.